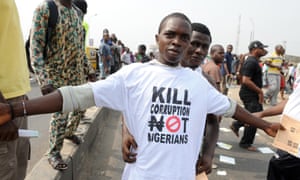 $1 billion per year lost to corruption
Today, the Guardian reports that the Nigerian Minister for Information, Lai Mohammed, "kicked off a corruption awareness campaign appealing to Nigerians to join the fight," noting that the previous regime's embedded corruption had "enriched a small elite but left many Nigerians mired in poverty, despite the country being Africa's top oil producer and having the continent's biggest economy."
AAF spoke with John Oxenham, a legal expert on anti-corruption measures with Africa advisory firm Pr1merio.  Oxenham comments:
"The Buhari administration is finally making good on its promises, it would seem, as it had thus far been slow to implement even the most basic of administrative tasks, such as appointing a proper cabinet.  As previously pointed out on your site, the visit with Ms. Lagarde and her advisors serves to enhance visibility and (hopefully) honest dedication to the anti-corruption efforts.  At Primerio, we work with several foreign private entities that express concern over doing business in Nigera, given its reputation.  While we can advise on compliance and risk-avoidance (keyword FCPA etc.), the Nigerian government's efforts to stamp out corruption from within are helpful, as well, in developing a more robust foreign-direct-investment climate."
That said, the Buhari camp must be careful not to create the appearance of using the "war against corruption" as a sham front for silencing the opposition under the guise of rooting out fraud.  "Employing the help of the courts — presumptively more impartial and fair than the political process — is therefore key to the government's fight against graft in Nigeria," says Andreas Stargard, also with Primerio.
"The estimated $1 billion per year lost to corrupt dealings over the past 7 years is staggering, especially when taking into account that these are merely the official figures — our Africa economists estimate that the actual loss to corruption amounts to an even larger share of the (significant) Nigerian GDP."
And so the Nigerian saga continues…